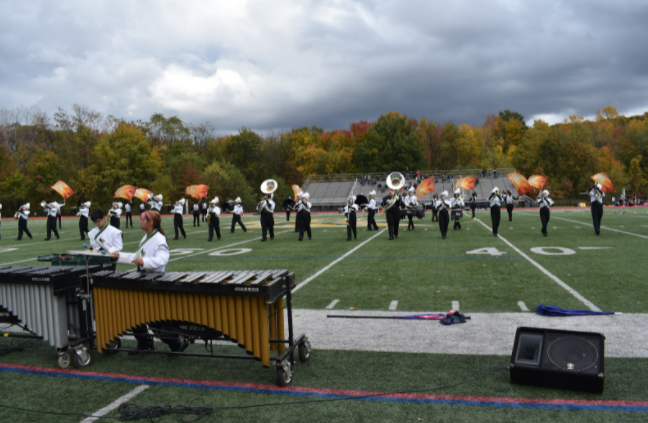 The end of football season in November brought the conclusion of another fall activity: color guard. Color guard is widely overlooked here at Knolls, even though it is an active club that requires a lot of time and effort. This year, the Morris Knolls Marching Band and Color Guard were ranked 4th in the state at championships, performing their show entitled "Rise." The show depicts a variety of emotions in four parts, including fear, anger, sorrow, and triumph. Part 2 included a rifle feature and a mock-duel between flags and rifles. It was an engaging performance that wowed the judges and once again bought Knolls a place of honor in the color guard world. As coach Sarah Wlazlowski stated in regards to the performance at championships, "I was extremely proud of their work ethic and the final results concluding the season." 
Participants in the color guard perform alongside the Golden Eagles marching band during state-wide competitions and football games. Performances include flags decorated with colorful silks, rifles (wooden, of course), and sabres. This equipment is twirled, tossed, and flourished to add a visual interpretation to the music played by the marching band. It helps the audience to better understand the emotions communicated through music. Additionally, color guard routines incorporate many elements of dance, tying performances together with an essence of gracefulness.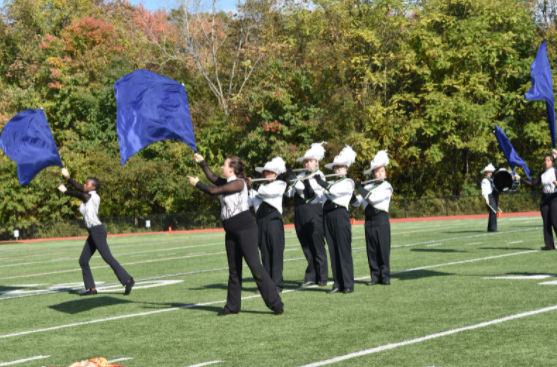 It may not be obvious when watching the color guard, but many of the skills attained through this activity require months of practice and hard work. This activity starts every year with weekly practices during the summer where new and returning members are taught the basics of spinning flags and rifles. They also learn the choreography that will be included in that year's show. At the end of August, along with the marching band, the color guard participates in band camp, a week-long practice held at Knolls. For 5 days, from 8 am to 5 pm, participants learn the moving aspects of the show. This includes their spots on the field and the movements required to get there. Sophomore member Shannon Dawson says, "Band camp was hard work, but it paid off in the end because our teamwork and skills improved, which allowed us to have a great season." 
Once the school year begins, practices are held for 3 hours on Tuesdays and Thursdays. The color guard performs with the marching band during halftime shows at football games. They also attend several competitions throughout the fall season. At these competitions, the color guard performs their show with the marching band for a statewide audience. The shows are ranked by a panel of judges and awards are given out. It also gives the color guard the chance to meet new people from dozens of other schools. 
Throughout the season, participants develop bonds with the rest of the color guard and band, spending months together working to perfect their performance. Lessons of perseverance and determination are learned during band camp and late-night practices. Participants acquire the values of hard work and practice. Most importantly, color guard creates friendships and lifelong memories. "You get to meet new people and put on an awesome performance that you feel accomplished with," says senior Bailey Daniels. "Color guard is not only part of a huge production, but also a family."