CAS for SAFE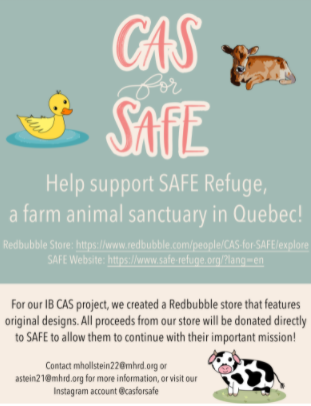 This Holiday Season you can support your peers and a non-for-profit organization by purchasing from CAS-for-SAFE's Redbubble. All of the products have original designs created by two Morris Knolls students, Mia Hollstein and Anna Stein, as a part of their CAS (Creativity, Action, and Service) project for the IB (International Baccalaureate) program. Moreover, all proceeds from the sales go to SAFE Refuge, an organization that works to rehabilitate and give shelter to animals in Quebec. 
The CAS project was completed last June and now, with people in search of presents, the creators wanted to draw attention back to it as the Redbubble website still continues to run. Anna Stein, who is now a freshman in college, has been supporting SAFE ever since she virtually adopted a rescue pig for her sister who was living in Quebec. Through her CAS project, she has been able to continue supporting the organization and introduce many others, like Mia Holstein, to it. As an IB student, Mia was excited to partake in Anna's CAS project once she learned about it. Mia's main role was marketing the store and their project, while Anna was in charge of developing the store and donations. Anna had prior experience with Redbubble, as she has her own store where she shares more of her artwork on the platform. Both the students created the artwork that is displayed, with Mia creating the cartoon animals and Anna designing the digital paintings. 
Reflecting on her experience Mia Hollstein stated, "The hardest part for me was definitely the actual artwork. It was challenging creating the drawings since I typically do graphic design-type things and not digital drawing. I really enjoyed getting to do the marketing stuff though as that was what I was most confident in."
Working past these difficulties, the two of them were able to put their strengths together to create a magnificent store. There are seven personally designed images including the CAS for SAFE Logo, CAS for Safe Logo in a circle, Piggy, Little Cow, Shaggy Haired Horse, the Kind Cow, and Duckie. Through Redbubble, these designs are printed onto a variety of different products: shirts, jackets, stickers, phone cases, bags, cups, and more. In total, for each design, there are 84 different products and styles one can choose from in order to find the perfect present to give to others or to give to oneself.
The organization that they raised money for, SAFE, began in the fall of 2016 when the founder bought a property with the dream of starting an animal sanctuary. It started with three pigs who had escaped the slaughterhouse and were roaming the countryside. With the help of the Human Society International, she was able to rescue these pigs. Next, she rescued a newborn calf and the organization continued like this, rescue after rescue. By the end of 2020, they were able to save 50 animals and care for them. SAFE also works to educate the public about animal abuse, be empathetic towards farm animals, and inform consumers of the impacts that their choices can have on the wellbeing of animals.
With the creation of CAS-for-SAFE by MK students Mia Hollstein and Anna Stein, all consumers now have an avenue to make a positive impact with their purchases.