Advice from 2021 Valedictorian and Salutatorian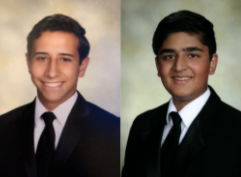 Navigating being a student with different COVID restrictions and the ways that this affects our learning can be very difficult. This year we no longer have to learn with the computer screen as our classroom, but we have a lot to learn from the Valedictorian, Joseph DosSantos, and Salutatorian, Adwik Rahematpura, of the Morris Knolls class of 2021. To learn from Adwik and Joseph, we interviewed each of them. 
What was your experience learning within a virtual setting? Last year when it was all virtual, what was that like? This year with zoom, what was that like?
A: Last year, virtual learning was challenging and we made the best of the situation but I felt learning anything was not easy at all. This year, through zoom, it was made slightly better but in-person learning is always better in my opinion. Regardless, there are not as many opportunities for one-to-one interaction with teachers or as many opportunities to clarify or ask questions. 
J: At first, I think virtual learning posed many challenges, as we were forced to take on a new sense of accountability that we never experienced before. When it was all virtual, I think that not only was school more difficult, but it was extremely difficult to not see my friends for an extended period of time. Luckily, this year it felt like our standing with the pandemic was consistently improving, whereas last year it appeared to only get worse. I am so appreciative of the administration's hard work to allow and maintain in-person learning throughout the entirety of the year.
What is your favorite MK memory?
A:  My favorite MK memory is broader, but would probably be our senior year tennis season.
J:  Attending the Morris Knolls Hockey team championship game will definitely go down as a highlight of my high school experience. It was not just watching the game, but there was also something so magical and humorous seeing tons of Morris Knolls students drive past on their way to the Prudential Center.
What were some of the challenges that you faced during MK and how did you rise to them?
(COVID related or other challenges)
A: In terms of challenges, I think virtual learning was a big one and the fact that learning didn't truly happen as much as it could have, but besides that, I cannot think of many other major challenges I faced.
J: I think my biggest struggle as a high school student was managing my time. It is often difficult to balance school, sports, work, and social life, but I think it is important for people to realize when they are overscheduling themselves. If an activity is causing excessive stress or burnout, then it might not be worth it and that is okay.
What is some advice that you would give to current and future High School students?
A: I have 2 pieces of advice, the first being find a balance, academics are very important but personal growth and social growth in terms of finding communities you enjoy being a part of both in and out of school are equally as important to the whole experience, so don't lean too far to one side. Secondly, you may think that in high school, your opportunities are limited in terms of what you can do, but the possibilities are truly endless if you can get out there and talk to people directly, communication is key and it makes finding out of school ECs in high school much easier.
J: I think it is important for high schoolers to always keep in mind the grand scheme of life when taking on stressful events. Oftentimes pressing deadlines or a bad grade will send a student into a panic, but if you take a deep breath and search for the next step to resolve that issue it would be a lot more helpful.
If you could go back and change one thing, would you / if you would what would it be?
A: There are a ton of clubs at MK, I would have joined a couple more in my freshman year. 
J: I do not think I have any specific action that I wish I did differently. I have always told myself in nerve-racking situations that I should step out of my comfort zone and do whatever I am scared of, or I might regret it. If you do not step outside of your comfort zone, you will never know the possible outcomes.
As we enter the second half of this school year, it is important to put your best foot forward and take advantage of the opportunities presented to you. So learn from the advice of the Valedictorian and the Salutatorian and make the best of your high school experience.