Introducing Morris Knolls' Spring Play 2022: Mamma Mia!
Morris Knolls is proud to present Mamma Mia! as this year's spring musical. Performances are scheduled for March 17th through March 19th at 7:00 pm each night. Mamma 
Mia! is a classic Broadway musical inspired by the music of the Swedish pop group, ABBA. Fans of the musical will remember that it originally ran on Broadway from 2001 to 2015 and has two movie adaptations: Mamma Mia! (2008) and its sequel, Mamma Mia! Here We Go Again (2018). Both movies starred acclaimed actresses Amanda Seyfried (Mean Girls) and a fellow New Jerseyan, Meryl Streep (The Devil Wears Prada).
Mamma Mia! follows the Sheridan family, Donna (Elizabeth Pietrucha) and her daughter Sophie (Maggie Waldron). Sophie, who has grown up without a relationship to her father, seeks him out to walk her down the aisle at her wedding to fiance Sky (EJ Gorman), without telling her mother about her search. However, there's one major issue: Sophie doesn't know who her father is. She has three leads, her mother's ex-boyfriends, Bill (Aidan Sales), Sam (Alex Nieves), and Harry (Michael Luciano). When they all show up at her home unexpectedly, Donna is shocked and must figure out what to do. Along for the ride are her best friends from her former band, Donna and the Dynamos, Tanya (Michelle Lee), and Rosie (Caroline Tenberge). What ensues is a journey through music and dancing, love and friendship, and secrets and revelations. Also starring in the musical are Abigail Comprelli as Lisa, Alex Vacchiano as Ali, Elijah Dor as Pepper, Sebastian Mendoza as Eddie, and Ethan Abellard as Father Alexandrios, as well as many other talented students in the ensemble.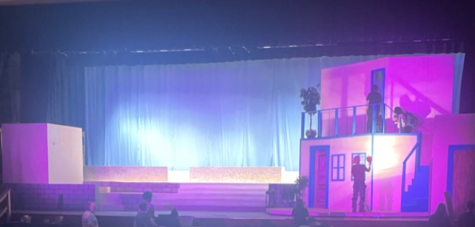 The Morris Knolls spring musical is long beloved by students and families alike. Last year, they performed Godspell. However, it was live-streamed to general audiences due to the pandemic. Like last year, the set for this year's production was designed by Mrs. Garry and Mr. and Mrs. VanHorn, with lighting designed by Mr. Keith Kasper. The sets and lighting are assembled, created, and operated by MK students and other generous helpers who have donated their time to making the set perfect, while also making memories. "I've gotten some of my best friends from [being in] stage crew, and it's really fun to be able to see them again," says sophomore Natalia Montes. Directing the musical is Mrs. Sharon Garry, while Mr. Corey Welihan is co-directing. Mrs. Kristen Markowski is the music director, and Ms. Stacie Gogo is the choreographer, with costume design by Mrs. Robin Gershaw. Tickets can be purchased at  www.showtix4u.com or at the door on the night of the show. The Morris Knolls cast and crew of Mamma Mia! hope that you come to a performance and see the show in action!