Puppy Bowl
Every year over 100 million people tune on to watch the Super Bowl. Throughout Morris Knoll's discussion of this sports event is widespread. Within all grades and all friend groups, chatter about the teams, the commercials, and the halftime show can be heard. Capitalizing on the cultural phenomenon, on the same day of the year, another annual event plays and it has been on Animal Planet for the past eighteen years. It is a three-hour special that starts at 2:00 pm. Like the Super Bowl, Snoop Dog makes an appearance, but unlike the Super Bowl, he is accompanied by Martha Stewart and many four-legged friends. Do you know the program? It's the Puppy Bowl!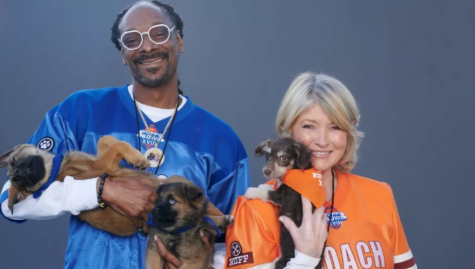 Although not as many people watch the Puppy Bowl as the Super Bowl, it is a great alternative or a wonderful way to start one's Super Bowl Sunday. Morris Knolls senior Nina Mindel agrees with this, "I love the Puppy Bowl! As someone who is not the biggest football fan, the Puppy Bowl is a great way to find enjoyment in Super Bowl Sunday with the rest of my family." Many MK students enjoy the Puppy Bowl due to the happiness it has brought them.   
The Puppy Bowl is a montage of puppies wandering around in front of 17 cameras during a two-day shooting that occurs months before the event. Around 100 dogs from shelters try to bring the toy football through the endzone. Every year the same two teams play, Team Fluff and Team Ruff. Last year Team Ruff won, but this year Team Fluff took the crown with the final score of 69-66. The animals do not know the aim of the game, but they know how to look cute while playing. Over the years the program has become more elaborate, introducing the Cat Litter Kitty Halftime and cheerleaders that are of different species each year: bunnies, chickens, pigs, and hedgehogs. Pun-based rulings like "pass inter-fur-ence" and "unnecessary ruffness," are another fun addition to this game. The show has become Animal Planet's most highly viewed program, with over 10 million viewers. 
Still, the Puppy Bowl has stayed true to its roots of trying to highlight rescue animals and organizations. All of the dogs shown are available for adoption. Due to the high publicity, there has been a 100% adoption rate; in fact, many of the animals are adopted before the Puppy Bowl airs. Throughout the game, clips of each dog's backstory are shown to help reveal the importance of rescuing animals. The virtuous aims behind this program are undeniable, as is the joy that viewing it can create. 
As more people learn about it and make it a tradition to watch, Morris Knolls may be filled with chatter about the big game, the PUPPY BOWL!