Bienvenida Señora Oliva
Mrs. Oliva recently joined Morris Knolls as a new Spanish teacher.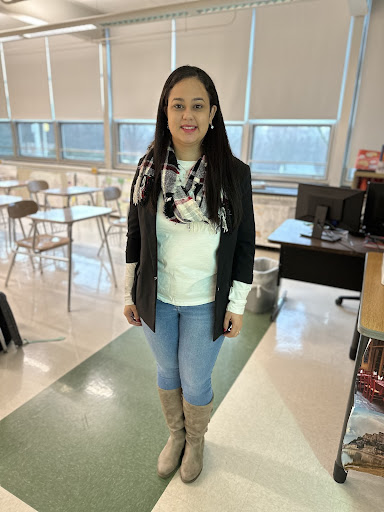 Mrs. Ana Oliva graduated from SUNY Cortland with a bachelor degree in adolescence education and concentration in Spanish. She also received her Masters in Science and Literacy from Hunter College while teaching in New York City. When not teaching, Mrs. Oliva likes to travel, cook, and read in both English and Spanish, with her favorite genres being fantasy and realistic fiction. She lives in Roxbury with her husband and eleven month old daughter. 
Her extensive education, coupled with her wonderful personality, has made her arrival great news for Morris Knolls. Mrs. Oliva shared that, "I really like the campus and feel a great sense of pride here. I am happy here and have felt very welcomed by students, faculty, and the administration."
Mrs. Oliva came to MK to pursue her teaching career in a campus that values diversity through unifying many neighboring communities into one regional campus. As a child living in the Dominican Republic, Mrs. Oliva has always enjoyed reading, which is how she discovered her love for language and teaching. When her family moved to New York City  she also learned English and discovered the advantages of being bilingual as a way to understand different cultures and people.  She has been teaching Spanish for eight years at all different levels and has worked with students grades 6th through 12th. For the past three years she has also graded AP exams for the College Board. 
In class, Mrs. Oliva values a positive teaching style to keep her students just as enthusiastic as she is during class, and this definitely shines through in her students. In addition to creating an atmosphere for learning, she believes it is also important in building empathy, character, and humanity towards one another. Mrs. Oliva strives to be a role model for her students and to inspire them to continue their journey to learn a language as well as culture.
Raida Faiza, a sophomore in her Spanish 1 class commented, "Mrs. Oliva is very kind and she tries her best to help us. I hope she's having an easy time adjusting to the new school. Overall, I think she'll be good for us and will help us learn Spanish better because she is a native speaker." Freshman Victoria Leyzerov, shares a similar opinion. When asked, she replied,"I think that even though she didn't meet us at the beginning of the year, she is still doing a good job in teaching us and understanding what we already know and making her curriculum around our knowledge of Spanish."
 She also believes in traveling and experiencing cultures first hand, as she was greatly influenced by her studies abroad in a Spanish speaking country. When teaching, she values both language learning and literacy to achieve fluency. In order to make this possible, Mrs. Oliva has blended classes where her students learn how to speak, read, and write, with classes focused on learning more about the culture.
Mrs. Oliva expects to motivate her students to learn a new language and become bilingual. As for the future, she wants to have the opportunity to take her students on trips abroad while leading them closer to fluency. ¡Bienvenida Señora Oliva!