JSA Goes to Washington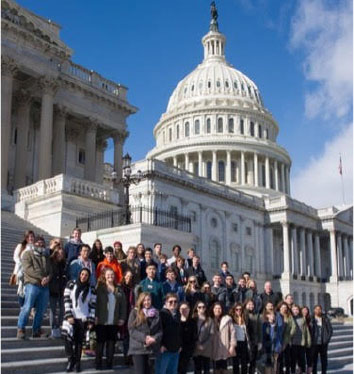 Hang on for a minute...we're trying to find some more stories you might like.
Saturday, February 11th JSA club participated in the Mid- Atlantic & Texas Winter Congress in Washington D.C. The Junior Statesmen of America is an organization focused on teaching young minds to be conscious and influential in our country's government.
With a winter storm quickly approaching, JSA's departure for the capital soon became complicated. The ultimate decision became to leave on Wednesday night instead of Thursday morning, in an attempt to escape the potential delays.
The first two days of the trip consisted of sight seeing of a vast amount of the city. The group was privileged enough to see a tour of the capitol building from the inside out. They were allowed to travel within buildings through the tunnels that exist underneath the city. Besides that, the group explored the Smithsonian Museum, the Holocaust Museum and were even invited into Congressman Frelinghuysen's office.
Saturday was the start of the convention and that morning, as the kids were dressed in their formal business attire, excitement was evident. The group was split into different houses and senates, where different bills were proposed and later passed. The typical format of the caucus was that the bill sponsor would introduce the bill, yield time to questions and then sit down. After that, the floor would be open to anyone who wanted to speak "pro" or "con" on it. From there, the assembly would move to the previous question which was when there would be a vote. A bill had to pass in both the house and senate to move on to general assembly, which would take place the next day.
Sunday was when houses were combined and those bills that had made it through the previous day would be voted on officially. Two bills from the MK chapter made it all the way. Their sponsors were Quentin Geddis and Andrea Cipriano. At the end of the convention, the Morris Knolls Chapter made their journey back home. The weekend was filled with fun and politics, two words you don't hear together every day.