For the Morris Knolls Marching Band's show this year, unknowing viewers may be a little surprised. The show, which focuses on the classic fairytale of Little Red Riding Hood, offers an alternative perspective to who the villain of the story actually is. Featuring popular songs such as "Natural" by Imagine Dragons and "Creep" by Radiohead, the show follows the narrative that it may not be the wolf who is the villain, but rather Little Red herself. 
As the show progresses, viewers watch the attitude of Red, as represented by the Color Guard, change from playful and mischievous to sinister and controlling. Through dance, rifle, sabre, and flags, the Guard performs to the sounds of the band. This show also has an extensive set, featuring ten trees and a house structure, one of the most intricate sets for the band in recent years.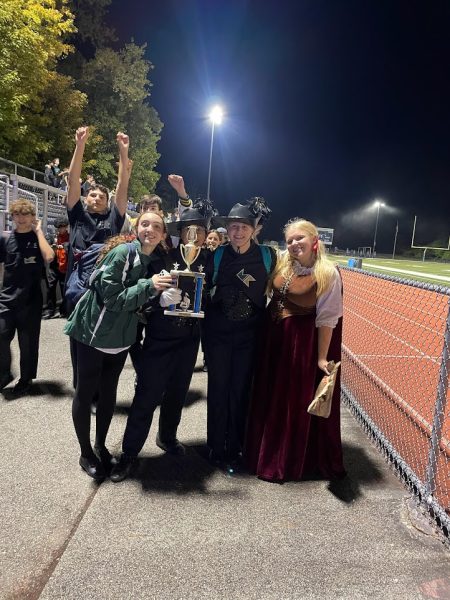 When the show was announced back in May, many were originally skeptical about what it could entail. "Initially, I was very hesitant about this season's show after [finding out] the theme last year," said senior Sophia Petrus. "It seemed weird, being a spin on 'Little Red Riding Hood,' and I had to listen to the full show many times for it to grow on me. I didn't know how well we could pull off a concept show. However, it seems like the band has been pleasantly surprised about the progress of this show and the success that they have had with it. Placing third in their first competition of the year and fourth in their second, the band looks forward to a great season, with two more competitions left. This includes state championships, where the band will face off against several other bands from across the state. Good luck to the band on the rest of their season!