MK Volleyball Varsity Team Makes History
This year's volleyball team illustrated resilience at its finest – demonstrating how, as a team, it is not only possible to play an entire season safely, but also to make Morris Knolls history within such challenging conditions. The team excelled during the regular season, winning a total of eleven of their thirteen games, advancing to the NJSIAA Tournament and Quarterfinal Round against Montville. With a successful win, they advanced further, to the Semifinal Round of the NJSIAA Tournament. Though their season ended here, the team was very proud of their accomplishments overall. "From this season I am definitely most proud of being conference champs for the first time in program history. It was really cool to be a part of that experience and to reach such a big accomplishment as a team," said April Faber, who played setter on the right side for the team.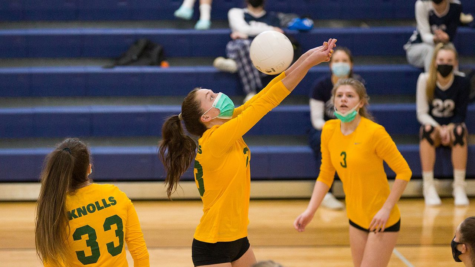 During the season, the team faced many unique challenges due to COVID-19. April remarked that "One difficulty we faced this season in terms of covid was having games canceled. Even though this only happened a few times, it was sad to have to lose more of an already very short season". Similarly, her teammate, Jolie Parisi, a sophomore and swing player for the team, said that the team "had to always be ready for added games and schedule changes because of other schools having to quarantine."
 "Luckily our school never did and we had very few players that had to be out because of covid so overall while it definitely changed because we had to make sure to wear our mask, clean and the equipment and social distance on the benches and buses, our team had a good season, despite covid" Jolie added. The team themselves were able to get through the entire season without having to cancel a game due to COVID-19, reflecting their commitment to stay safe during the pandemic. 
"My favorite part about playing on the MKVB team is being able to have fun with my friends playing a sport that I love, and this year with our record it made it even more exciting to be winning and then having fun the next day at practice," said Jolie, showing that the season was a success in more ways than one. In addition to making Morris Knolls history, the girls were able to have fun and form strong bonds with one another along the way. 
"This year was unlike any other that we've had to go through/experience, and despite all of the chaos, the girls were able to set a goal and achieve the goal that they set out for the season, which was winning our conference for the first time ever for the volleyball program," said Miss Jolyn Veres, the head coach of the Girl's Volleyball varsity team.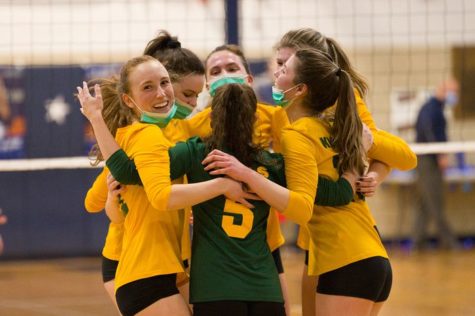 If you would like to learn more about the team's successful season, statistics, games, and other details, you can view them here at this website: https://highschoolsports.nj.com/school/rockaway-morris-knolls/girlsvolleyball/season/2020-2021