Denville Dairy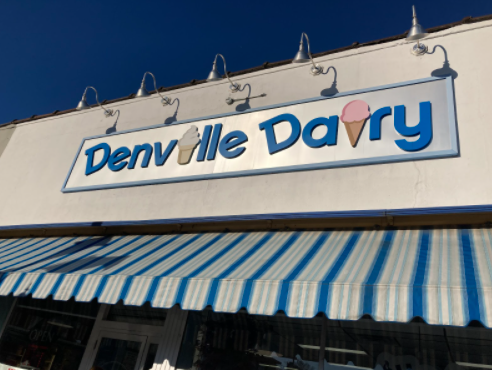 I scream, you scream, Morris Knolls screams for Denville Dairy ice cream! Only six minutes away from MK in the heart of downtown Denville sits the beloved ice cream shop, Denville Dairy. This is the place where regardless of the weather, students will go to grab a sweet treat. It is a common place to go to meet up with friends or for team bonding experiences. For the holiday season, there will be special flavors rotating in and unique desserts ready to be eaten. To bring some festivity to one's days, they can order holiday cookie, candy cane, or egg nog ice cream. No matter what flavor one chooses, it will always be homemade and spark a love for the uniqueness of not only the flavor, but the community it is a part of.
This past season the Morris Knolls Cross Country Team went to the ice cream shop after their meet at Garret Mountain. Sadie Feingold, a Freshman on the team, reflected on the event stating, "I loved getting to hang out with my teammates while enjoying my favorite ice cream. It was definitely the highlight of my day!" Similarly, Gabriella Roelli, another freshman on the team, expressed her love for the shop, "Denville Dairy is so amazing. I really like their ice cream flavors. My personal favorite is Vanilla Crunch Swirl." Not only are MK students dedicated customers, many of them are employees. Out of the 15 high school students working at Denville Dairy, 8 of them go to Morris Knolls.
Denville Dairy sells a variety
of ice cream desserts, including oreo fudge dessert cake, caramel heath bar pie, chocolate mudd pie, vanilla peanut butter fudge pie, ice cream sandwiches, ice cream sundaes, and of course simply wonderful ice cream. Despite many MK students having visited the shop, they may not know that most of the ice cream flavors shift throughout the year, so when one sees their favorite they ought to grab some while it lasts. There are forty different flavors sold at one time; which may sound like a lot, but with all the combinations that Denville Dairy has crafted, there are many that are not always available. Only 14 flavors have a guaranteed spot on display: vanilla, chocolate, strawberry, oreo, coffee, butter pecan, vanilla peanut butter, vanilla crunch swirl, cherry-vanilla, cookie dough, mint chip, black raspberry, vanilla M & M, and vanilla chocolate chip. Other flavors rotate to ensure that everyone can have their favorite at some point. For instance, different coffee flavors, such as coffee chip and coffee oreo, alternate as to which one is available. With real oreo bits mixed into the creamy coffee base, coffee oreo is a customer favorite that usually sells out within a couple of weeks.
Overall, Morris Knolls is closely knit with Denville Dairy, both bringing some sweetness to the other.