The MK Knitting Club
The Morris Knolls Knitting Club, also known as Knots of Fun, has been around for many years, but only this year has it opened up to students in addition to teachers. Created by two teachers, Ms. Neinstadt and Ms. Seamen, Knots of Fun is a marvelous opportunity to learn how to crochet or knit. 
As Ms. Neinstadt remarked when asked about the club, "we love doing the Knitting Club because it's great to see knitting and crocheting come back as a popular teen hobby for the young teen crowd." Knots of Fun gives students the chance to make new scarves, hats and, most importantly, new friends. 
Ms. Seamen, another teacher involved in the club, stated, "My favorite part of the Knitting Club is meeting new students and teaching them new things, which they'd never thought they'd learn before."
Knots of Fun is a gateway to this new and exciting hobby and facilitates practicing it with guidance.  As Annie Ngo, a member of the knitting club, stated, "I like that it gives me time to crochet because I don't usually get to outside of school." It's a great way to hold yourself accountable because the regular meetings help to set time apart for knitting or crocheting without worrying about losing time for homework or other extracurricular activities. Overall the Knitting Club is a fabulous way to make friends, practice knitting, and learn a useful new hobby.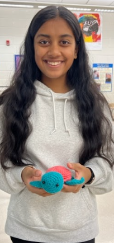 1. Trisha Patel holding her turtle she made in Knots of Fun.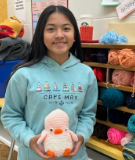 2. Mia Raroque showing off her penguin she created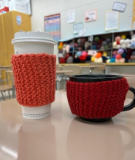 3. Ms. Neinstadt's coffee cozy she knitted