The Simonverse and Becky Albertalli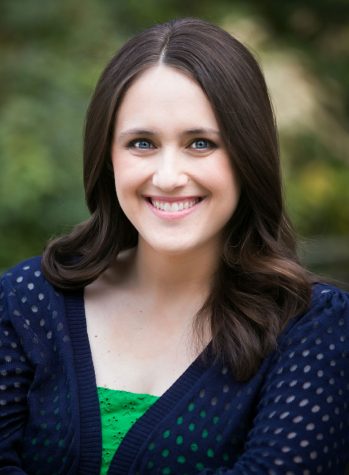 The Simonverse is made up of three books, Simon vs. the Homosapiens Agenda, The Upside of Unrequited, and Leah on the Offbeat, all by Becky Albertalli. All three of these books are young adult novels, with the plot revolving around romance. The Simonverse is made up of fantastic characters all connected to each other in some way. All of the main characters in these stories are all going through somewhat similar experiences while also facing different conflicts. The three of the books have the overarching theme that love can come in many different shapes and sizes and it is always beautiful. Becky Albertalli is not the typical best-selling author because before she was an author she was a clinical psychologist specialized in working with teens and children. Her background increases the quality of her novels because she makes the reader understand the characters. In addition, she does a great job in developing all of the characters because she understands teenagers very well. Albertalli wrote her first novel in 2015 and ever since, she has been unstoppable and keeps coming out with amazing novels.
Without further ado, let's dive into the first book in the Simonverse, Simon vs. the Homosapiens Agenda. This was Albertalli's first book and it was AMAZING. This novel was published on April 7th, 2015 and was turned into the motion picture Love Simon that came out on March 22nd, 2018. I do not want to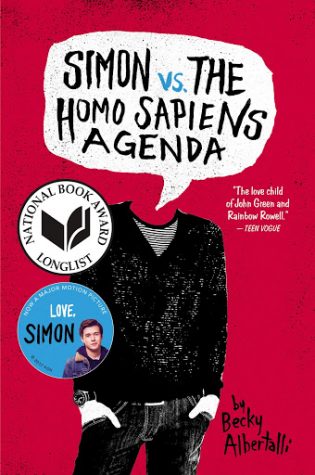 sound like every other book reader, but I am going to; the book is better than the movie. I adored the movie and will forever be indebted to it because it was what introduced me to the Simonverse, which I am now in love with. With that noted, the movie is a very good adaptation of the book, so if you liked the movie then you'll like the book. The story takes place in Creekwood High School, which is in Georgia. In the book, you get so much more of Simon Spier, the main character. He is this funny, lovable guy who is obsessed with Oreos and has a secret; he is gay. He has three best friends named Leah Burke, Abby Suso, and Nick Eiser. Leah has two really good friends, Anna and Morgan, Nick has two friends from soccer, Garrett and Bram. Simon begins to exchange emails with a guy who goes under the pen name of Blue and from there, everything gets a whole lot more complicated. The beauty of the novel is that it is not just a young adult romance novel, but a  story of a young man trying to figure out who he is and to accept himself for his differences.
The next novel in the Simonverse is titled The Upside of Unrequited, which came out April 11th, 2017. In this novel, the main character is Molly Peskin-Suso. She has a twin sister named Cassie and two Moms. Abby, from Simon vs. the Homosapien Agenda, is Molly and Cassie's cousin. Molly is an overweight, beautiful, Pinterest-loving, socially awkward teenager who the reader follows throughout the novel. In the book, Molly, Cassie, her friend Oliva, and Abby are all in a friend group, but Abby moves away to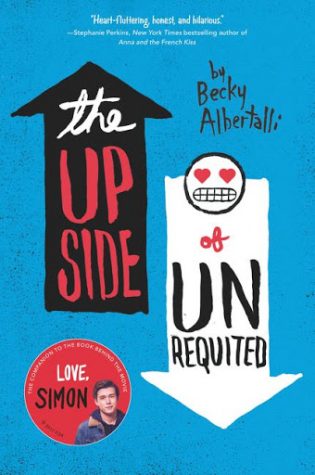 Creekwood and hence only makes a few appearances in the book. The story starts when Molly meets a girl, Mina, in a bathroom while at a concert. Molly thinks that Mina would be perfect for her sister and introduces them. Cassie really likes Mina and because of that, their two friend groups join together. From Mina's friend group, Molly meets Max, who is hipstery and could potentially become Molly's first kiss. Molly works at this shop where she meets Reid, who is this geeky, awkward, kind-hearted guy who Molly actually feels comfortable around. Throughout the book, the reader follows Molly as her too clean love life becomes very messy. She learns how to take chances and refuses to let her anxiety control her. My favorite aspect about this book is Molly's relationship with her sister and how it focuses on how she and her sister are growing apart while growing up and how Molly desperately wants to prevent that from happening. This is a beautiful young adult novel that I would recommend to anyone and everyone who can read.
The final book in the Simonverse is Leah on the Offbeat, which I am so excited about because I just finished it and found it to be quite magical (it came out on April 24th, 2018). In this book, the reader gets more of all of the characters that they fell in love with in Simon vs. the Homosapiens Agenda and some mentions of Molly and Cassie from The Upside of Unrequited, so it wraps up the Simonverse with a nice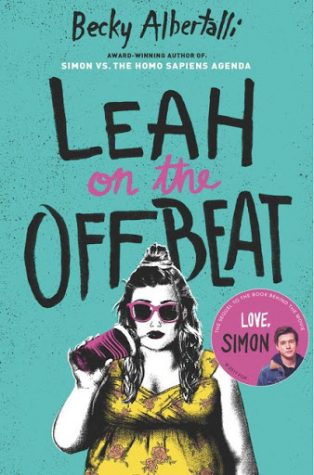 bow on top. The story revolves around Leah Burke in her senior year of high school as she goes through a plethora of changes in her life. First of all, this book shows a very different family structure than the last two. Leah's dad left her family, her mom had her when she was 17, and her mom works all the time. Leah's family is very low on money but full of love, and the relationship between Leah and her mom is an amazing thing for the reader to see as it develops throughout the story. Leah's senior year was constantly changing, something that she is very resistant to. She is very intimidating and tough on the outside, but on the inside, she is fragile. During this book, a reader gets to comprehend the complications of being Bi (because Leah is Bi). Leah struggles with navigating through her emotions, letting herself love as she pleases, and putting herself out there. The deeper message in this book is embracing how hard life can be and not pushing for everything to be perfect.
Albertalli has written one more book with Adam Silvera, the author of They Both Die at the End. This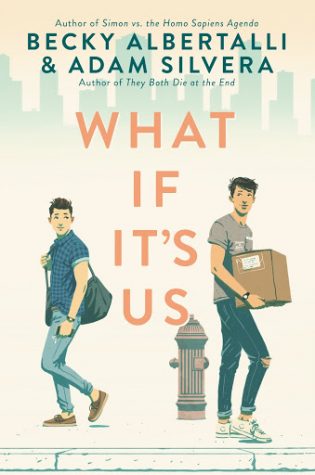 novel is called What If It's Us and it came out October 9th, 2018. It is not part of the Simonverse and I have not read it. The book is once again a young adult, romantic novel about two guys who meet each other but then have no way of contacting one another. Once they find each other, they wonder if they were not supposed to be together. This book is written in first person, like the other three books that Becky wrote. Quite interestingly, Albertalli writes in first person for one of the characters while Adam Silvera writes for the other character. This book should be really good.
As the Simonverse is concerned, Albertalli does not have any plans to write another novel that connects to Simon and all of the characters she has created thus far. She has not said if she is planning to write another book, but I am going to keep my eye out for her when scanning the shelves.